PHX International State of the Metro 2020
Global Chamber at Skysong
1365 N Scottsdale Road
Synergy II
Scottsdale, AZ
Tickets
*Members:* Please login to see member ticket options
Tickets not currently available for this event
Global Chamber® International State of the Metro 2020
February 24, 2020... 4:00-5:30pm. Join us!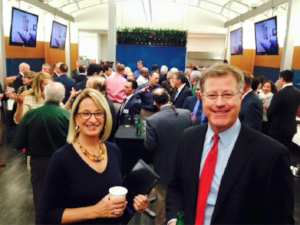 Members of Global Chamber®, login to register for your FREE tickets.
How are we doing with international business in the Phoenix Metro? We don't just talk about it, we grade it and put a report card together. This year we're pleased to announce that the official report card grader is Rob Millar of City of Scottsdale!
Join business and community leaders to share open and honest views at this Global Chamber® signature event, all about international business, culture, education and more.
Sponsors Cresa, Spencer Fane, Harvard Group International and Bank of America. Thank you all!
Check out last year's event HERE. And in 2018 we featured then future-Mayor Gallego's FIRST public discussion of international business plans and strategies. She was amazing back then, too! More HERE. Questions? Contact Doug Bruhnke or Mike Langley
International State of the Metro 2020
Monday, February 24, 4:00-5:30pm
Global Chamber at Skysong - 1365 N Scottsdale Road, Scottsdale, Synergy II
4:00pm - 4:20pm Connecting with the Global Tribe
4:20pm - 5:30pm International State of the Metro
Keynote Speakers
Mayor Jim Lane at City of Scottsdale - Welcome
Rob Millar at City of Scottsdale - Metro Phoenix International Report Card
Barbra Coffee, Director of Economic Initiatives at City of Tucson - Southern AZ
Kevin Youngblood, President at Youngblood Works - Don't Forget the West Side
Sidnee Peck, Chief of Staff at Zero Mass Water - Product Export Success
Jeff Golner, President/CEO at STEM Sports® - Service Export Success
David Adame, President/CEO at Chicanos Por La Causa - Community Development
Hank Marshall, City of Phoenix & Doug Bruhnke - Export League
Ruth Sanchez, Executive Director at Project C.U.R.E. - Update on Progress
Join us! Surprises, connections and memories await you!!
Sponsors
Our members will be there to share their thoughts, too on what's up internationally in Arizona. Some pictures from the last couple years below, including the last two people to deliver the report card... Rick Buss (City of Peoria) and Jeanine Jerkovic (City of Surprise).
Like... Rick Buss, City of Peoria - International Report Card 2019
2017 Mayors Greg Stanton (Phoenix), John Lewis (Gilbert), Sharon Wolcott (Surprise) and John Giles (Mesa).
2018 Included Daniel Valenzuela, Candidate Heather Ross, Jeanine Jerkovic & Mayoral Candidate Kate Gallego
Here's our first International State of the Metro in 2007 with Rodrick Miller, GPEC

International State of the Metro began October, 2007 with Rod Miller of GPEC at Jobing.com HQ. Along the way Rudy Vetter, Chris Camacho, Chris Petroff, Hank Marshall and Jeanine Jerkovic have shared their detailed thoughts. Rudy started the report card process 8 years ago. With the formation of Global Chamber in 2014, we've had more business and government leaders weighing in... including (titles at the time) Surprise Mayor Sharon Wolcott, Gilbert Mayor John Lewis, Mesa Mayor John Giles, Phoenix Mayor Greg Stanton, U.S. Rep Kyrsten Sinema, U.S. Rep Matt Salmon, Mayor Kate Gallego, City Councilleader Daniel Valenzuela, The King of Metro Phoenix Alfredo J. Molina of Molina Fine Jewelers and many more. Thank you all!