About Us
Global Chamber® Denver
Global Chamber Denver helps members get business done across metro areas!
We are a thriving and collaborating community of CEO's, executives, and leaders growing business across 525 metropolitan areas. We leverage technology and our collective networks around the world to help member companies grow, reduce risk, be more productive, and succeed faster.
We are the ONLY organization in the world in hundreds of locations with the mission to grow business from anywhere to anywhere while collaborating with every organization. We help companies, investors and business service providers around the world succeed.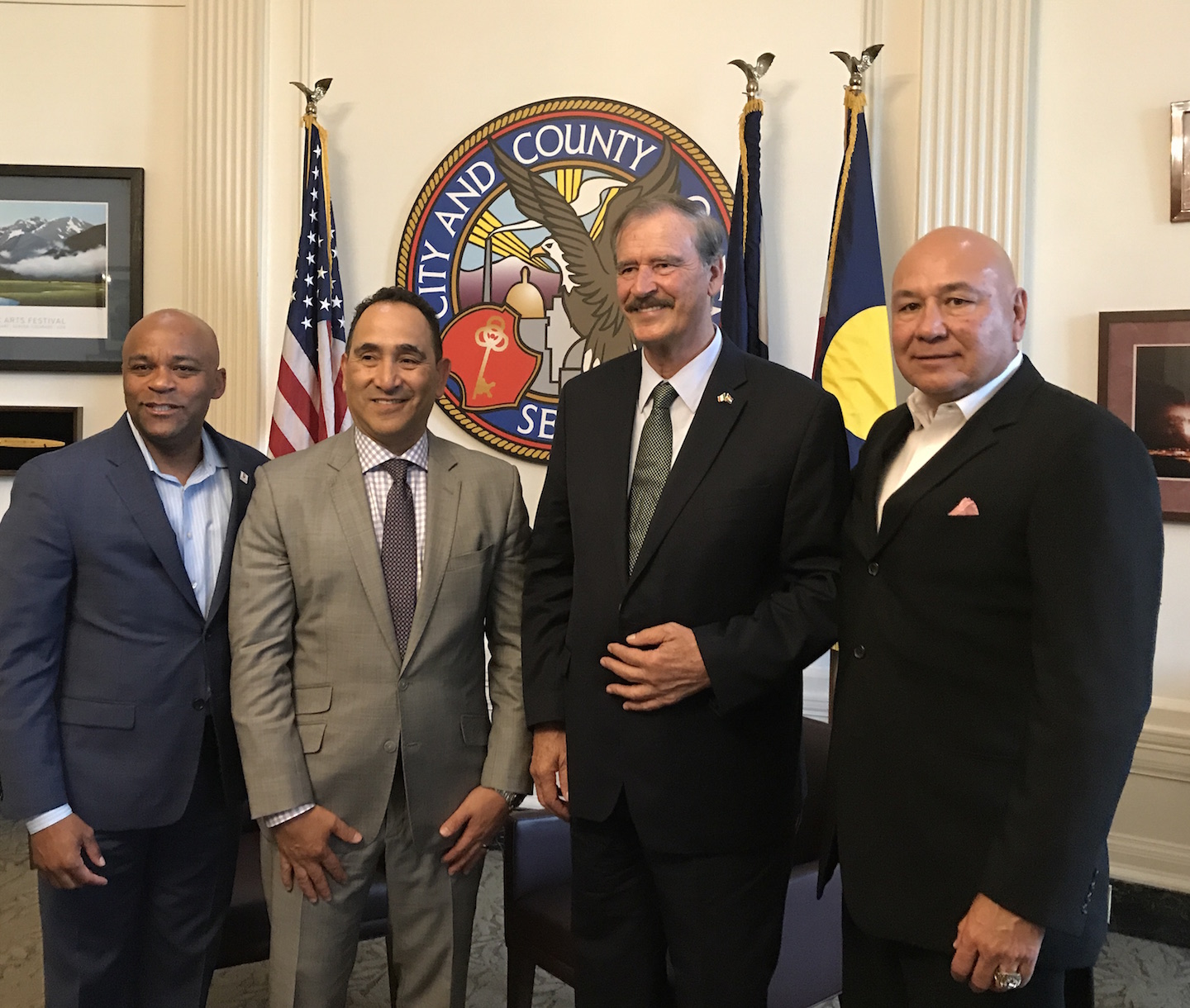 From left: Denver Mayor Michael Hancock, Global Chamber Denver Exec. Dir. Jeffrey Campos,
President Vicente Fox and Sr. Advisor to President Fox Juan Garcia.


Jeffrey Campos, Executive Director
Global Chamber® Denver
Campos has a rich history of developing partnerships with industry, community, and government leaders that drive revenue gains under strict market and budgetary, he was appointed as the Executive Director for Global Chamber Denver in late 2015. Campos looks forward in connecting Denver's leaders, companies and communities in more successful cross-border trade and investment to accelerate global business growth, increase community success to change the world.
Campos is also the current CEO of Elite Advantage LLC, a Marketing Firm and PR created in 2011 with a multicultural view that covers the full spectrum of communications, marketing, public relations, relationship management and community outreach for client companies operating across a diverse list of industries and economic sectors. In 2017 became a Partner Ahora Global LLC a consulting firm that delivers cross-border services that facilitates business development strategies in Latin American countries.
Prior to starting his own marketing firm, the Hispanic Chamber of Commerce of Metro Denver Board of Directors selected Jeffrey Campos as the President & CEO in March 2005. Through his leadership, the chamber grew to be one of the largest Hispanic Chambers in the country and the second largest chamber in the State of Colorado. He was also instrumental in connecting Hispanic Businesses and leadership with the Metro Denver business community through public policy and business development initiatives.
A dedicated leader in business, civic and charitable organizations, Campos has previously served as a board member of the Leukemia & Lymphoma Society, Museo De Las Americas, Muscular Dystrophy Association, Denver Hispanic Chamber, Denver Metro Chamber, Phoenix Chamber, Colorado Women's Chamber, Rocky Mountain Junior Achievement, Shaka Franklin Foundation and the Urban League of Metro Denver. He also served as Chairman of the Denver Metro Chamber Foundation.
During his tenure as the Hispanic Chamber President, Campos has also dedicated his time to assisting other community and non-profit organizations. He was a member of the Visit Denver Board of Directors, Colorado Boxing Commissioner, Denver Housing Authority Commissioner, Metro State President's Advisory Committee, Live Well Colorado Board of Director and Co-Chaired both Colorado Governor John Hickenlooper's and Denver Mayor Michael Hancock's transition team for Economic Development.
Originally from Chicago, Illinois and a graduate of the city's Loyola University, Campos relocated to Denver with his wife and two daughters. This dedicated leader also finds the time to enjoy Colorado's abundant outdoor activities.
More: http://www.linkedin.com/in/jeffreycampos